Jar Gifts for everyone on your Holiday List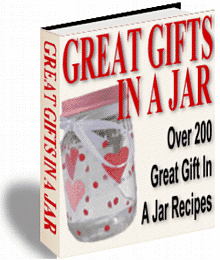 Your family and friends will be delighted with these thoughtful gifts straight from your own kitchen. With this unique ebook you will have over 200 recipes for gift jars filled with the ingredients to make delicious cakes, cookies, soups and chilis, Gift-giving has never been this much fun and so easy. Great Gifts In A Jar is the ultimate resource for inexpensive gifts you can give for any occasion. Here are just a few of the recipes you will find inside Great Gifts In A Jar:
APPLE CAKE IN A JAR

BANANA NUT BREAD BAKED IN A JAR

BEST EVER CHOCOLATE CHIP COOKIES

BROWNIE MIX IN A JAR

CARROT CAKE MIX

CRANBERRY HOOTYCREEKS

CRAZY CAKE MIX IN A JAR

GOURMET COOKIE MIX IN A JAR

FRIENDSHIP SOUP MIX IN A JAR

NORTH POLE CANDIED PECANS
Great Gifts In A Jar also includes ideas for making your gift jar look special and a gift you will be proud to give to anyone. Save money through out the year, Order Great Gifts In A Jar today for only $2.77!
Great Gifts In A Jar is delivered in PDF format and is viewable on any computer. All you need is Adobe Reader which is available free and already on most computers.
Click here to return to "Inexpensive Homemade Christams Gifts"