Alterna Hemp Concrete
Alterna Hemp Concrete is infused with ultra-hydrating hemp seed oil, Alterna's Hemp Styling products protect and strengthen hair while addressing an array of styling needs. This product provides volume and definition with a flexible, ultra-hold and matte finish.
Benefits: Soy proteins provide a rich emollient base. Creates an extreme hold with a matte finish.
Directions For Use: First apply to the hands and emulsify, then apply to desired areas. Apply to dry hair and style.
Buy a few Alterna products and package them nicely in a matching colored hemp tote bag and give as a gift all year long or buy it for yourself and indulge in a eco-friendly product!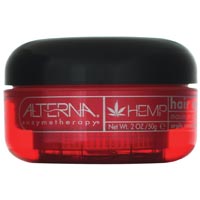 ---
Do you have a review to share about this product?
Have you personally tried this product? If so, this a great place to leave feedback on your experience! Here are some questions to get you started:

1. What was your motivation to purchase this product?

2. Do you think it's worth the money, considering all the benefits?

3. Would you recommend this product to others?