Alterna Hemp Repair Conditioner
Alterna Hemp Repair Conditioner for stressed, chemically treated hair. Essential amino acids and other nutrients help prevent dryness and breakage, while adding softness and manageability.
Infused with the patented ultra-hydrating hemp seed oil and nutrient-activating enzymetherapy complex, Alterna's Hemp Repair Conditioner is a naturally balanced , creme-based formula that helps repair and revitalize chemically treated , moisture starved hair.
Enriched with essential amino acids for increased flexibility, strength and shine. Fruit derived enzymes and powerful UV protectants work together to provide maximum color protection.
Ideal for daily use. Benefits: Strengthens hair with a protein/moisture balance. White Tea acts as a powerful antioxidant. Delivers intense strength to extremely damaged hair. Shields hair from damaging free radicals. For use on damaged hair.
Directions For Use: After cleansing, apply Alterna's Hemp Repair Conditioner. Massage through hair and leave on for 3-5 minutes, then rinse.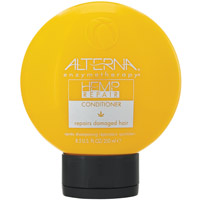 Alterna Hemp Repair Conditioner 8.5oz
Do you have a review to share about this product?
Have you personally tried this product? If so, this a great place to leave feedback on your experience! Here are some questions to get you started:

1. What was your motivation to purchase this product?

2. Do you think it's worth the money, considering all the benefits?

3. Would you recommend this product to others?