Alterna Hemp Sheer Pomade
Alterna Hemp Sheer Pomade brightens and adds luster and manageability to any hair. A lightweight, high shine finishing pomade to smooth, define and gently control hair.
Infused with ultra-hydrating hemp seed oil and nutrient activating enzymetherapy complex, it enriches the hair with essential amino acids and other nutrients to help prevent dryness and breakage while adding volume and shine.
Contains powerful UV protectants to guard against environmental color damage. Benefits: Sweet Orange Peel adds intense shine and fragrance. Dry oil spray formula delivers weightless finish. Will not break down hairsprays. Creates a natural sheen for all hair.
Directions For Use: Spray over dry hair. Use throughout the day to refresh your style.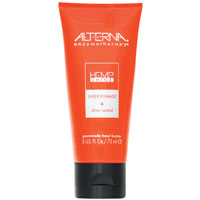 Alterna Hemp Sheer Pomade 3oz
Do you have a review to share about this product?
Have you personally tried this product? If so, this a great place to leave feedback on your experience! Here are some questions to get you started:

1. What was your motivation to purchase this product?

2. Do you think it's worth the money, considering all the benefits?

3. Would you recommend this product to others?