Alterna Hemp Spray Conditioner
Alterna Hemp Spray Conditioner protects and strengthens hair while addressing an array of styling needs. This super light formula strengthens and detangles the hair.
Infused with ultra hydrating hemp seed oil and nutrient activating enzymes, Alterna's Hemp Seed Spray Leave-In Conditioner helps prevent dryness and breakage.
Benefits: Acts as a thermal protectant. Moisturizing properties help retain vital moisture. Provides protection from damage due to thermal styling. Detangles hair while lightly conditioning. For use on all hair.
Directions For Use: Cleanse hair with recommended Alterna shampoo. Apply to towel-dried hair. Do not rinse. Style as usual.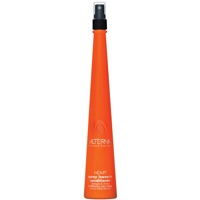 ---
Do you have a review to share about this product?
Have you personally tried this product? If so, this a great place to leave feedback on your experience! Here are some questions to get you started:

1. What was your motivation to purchase this product?

2. Do you think it's worth the money, considering all the benefits?

3. Would you recommend this product to others?