Alterna Hemp Spray Shine
Alterna Hemp Spray Shine Brightens, adds luster and manageability to any hair type. A super light finishing spray for radiant shine. Infused with the patented ultra-hydrating hemp seed oil and nutrient-activating enzymetherapy complex,
Alterna's Hemp Seed Spray Shine showers the hair with essential amino acids and other nutrients necessary to restore elasticity, volume and manageability. Benefits: Sweet Orange Peel adds intense shine and fragrance. Dry oil spray formula delivers weightless finish.
Will not break down hairsprays. Creates a natural sheen for all hair. Directions For Use: Spray over dry hair. Use throughout the day to refresh your style.
Treat yourself today and support the use of hemp!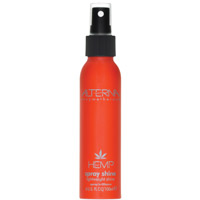 Alterna - Hemp with Organics Spray Shine 4oz
Do you have a review to share about this product?
Have you personally tried this product? If so, this a great place to leave feedback on your experience! Here are some questions to get you started:

1. What was your motivation to purchase this product?

2. Do you think it's worth the money, considering all the benefits?

3. Would you recommend this product to others?