Alterna Hemp Straightening Balm
Alterna Hemp Straightening Balm protects and strengthens hair while addressing an array of styling needs. Alterna's Hemp Seed Straightening Balm is a powerful gel formula that effectively straightens both wavy and curly hair.
Infused with patented ultra-hydrating hemp seed oil and nutrient-activating enzymetherapy? complex Alterna's Hemp Seed Straightening Balm tames frizzies, adds moisture, and primes hair for thermo-styling.
Benefits: Acts as a thermal protectant. Provides light humidity resistant hold. Provides protection from damage due to thermal styling. Creates frizz free, longer lasting blow outs.
Directions For Use: Apply throughout towel-dried hair. Use a brush to pull hair straight while blow-drying from roots to ends. To tame frizzies, gently emulsify on fingers and apply to desired areas.
Try some for yourself today!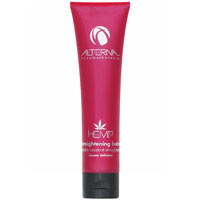 ---
Do you have a review to share about this product?
Have you personally tried this product? If so, this a great place to leave feedback on your experience! Here are some questions to get you started:

1. What was your motivation to purchase this product?

2. Do you think it's worth the money, considering all the benefits?

3. Would you recommend this product to others?