Alterna Hemp Volume Lock
Alterna Hemp Volume Lock is Infused with ultra-hydrating hemp seed oil that protect and strengthen hair while addressing an array of styling needs.
A maximum hold hairspray that gives incredable volume to the hair and locks styles into place. It ensures a firm yet touchable hold while adding exceptional fullness, manageability and shine.
Benefits: Contains a dual polymer system which instantly delivers lift and body. Extremely fast drying. Creates extreme hold while adding volume. For use on all hair.
Directions For Use: Style hair as desired. Hold Alterna's Hemp Seed Maximum Hold Volume Lock 8-12 inches from hair and spray.
Try some today!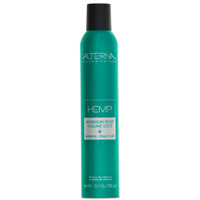 Alterna Hemp Volume Lock 10.1oz
Do you have a review to share about this product?
Have you personally tried this product? If so, this a great place to leave feedback on your experience! Here are some questions to get you started:

1. What was your motivation to purchase this product?

2. Do you think it's worth the money, considering all the benefits?

3. Would you recommend this product to others?