Manitoba Harvest
Manitoba Harvest offers an outstanding selection of high quality hemp products while providing superior customer service.
I can personally vouch for this company as I am a customer. I have ordered their organic line of hemp seeds, hemp oil and their hemp milk, which my 18 month old loves. My experience with customer service has surpassed any of my expectations.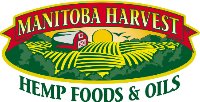 About the Manufacturer: Manitoba Harvest was Established in 1998. It is based in Winnipeg, Manitoba, Canada. It owns and operates a 6000 Sq Ft. state of the art, kosher certified, USDA organic certified facility. They are proud to be the largest vertically integrated hemp food manufacturer, offering the freshest and highest quality staple hemp food products to all retailers worldwide.
Below you will find some of their popular products, just click on any of the pictures and you will be redirected to their store.
Rest assured that this company produces hemp's finest!