Kristen Suzanne's EASY Raw Entrees

Take your Raw lifestyle to the next level by creating some of the most delicious and satisfying meals you've ever had, but now as part of the world's healthiest cuisine... RAW.
You won't believe how rich and fulfilling Raw meals can be! Perfect for any gathering or celebration. Your guest will be delighted at the colorful feast. Fast, easy and impressive!
51 Raw Entrees Recipes - 91 Pages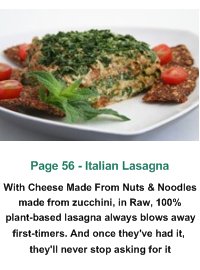 *Introduction to Raw
*6 Basic Raw Recipes
* 36 Raw Entrees
* 9 Raw Breads, Crackers & Bars
Price: $12.95 (See special Bundle Price)

Format: All of these books are ebooks, meaning they are delivered electronically, as Adobe Acrobat .PDF files that I email to you personally in 1-12 hours (much sooner during business hours).
List of Raw Entree Recipes
My 6 Basic Raw Recipes
* Rejuvelac
* Crème Fraiche
* Nut Milk (regular)
* Nut Milk (thick)
* Raw Mustard
* My Basic Raw Mayonnaise
Entrees
* Sun-dried Tomato Puree
* Essence of Sweet Rose Dish (Fat-Free)
* Olive Caper Extravaganza
* Cajun Portabellas with Wild Rice
* Tuscan Sun-Dried Tomato Pesto
* Moroccan Pesto-n-Pasta
* "Take Me to India" Pesto-n-Rice
* Hearty Garden Burgers (see photo) - Includes Raw Savory Sweet Ketchup recipe
* Island Coconut Burgers
* Nutty Butter & Sweet Berry Jam Sandwich on Chocolate Bread
* Kristen Suzanne's Raw Italian Mix
* On-the-Go Raw Cheese
* High Energy Banana-Romaine Sandwich
* No Pigs in This Blanket
* Simple Sun-Dried Tomato Pate
* South of the Border Burrito (see photo)
* Sun-Drenched Italy Pate
* Kristen Suzanne's Famous Marinara with Pasta
* Marinara #2 (fat-free) with Zucchini Pasta
* No-Meat Rawvioli
* Cheezy Rawvioli (see photo)
* Kristen Suzanne's Italian Lasagna (see photo)
* Basil My Broccoli (or any veggies!)
* Hurry My Curry Vegetables
* No-Vodka Sauce with Zucchini Pasta (see photo)
* Amalfi Coast Pizza (see photo)
* Mexican Fiesta Pizza - Includes Cheezy Nacho Sauce recipe - Includes Fresh Salsa recipe
* Exquisite Cilantro Ginger Pesto
* Indian Marinara Entree
* Caribbean Jerky
* Left-Over Wrapped Lunch
* Beach Front Wrap
* Creamy Curry Sauce with Vegetables
* Twilight Pecan Shallot Pate (see photo)
* Gourmet Italian Quiche Tarts (see photo)
* Savory Protein Stuffed Mushrooms
Breads, Crackers, and Bars
* Basic Chia Seed Crackers
* Kitchen Sink Crackers and Bread
* Kristen Suzanne's Addictive Savory Mustard Bread
* Banana Hemp Protein Bars
* Vanilla Hemp Protein Bars
* Chocolate Snack Bread
* Garlic Basil Flax Crackers
* Sweet-n-Savory Bread
* Coconut Tortilla Wraps