Kristen Suzanne's EASY Raw Holiday Recipes

This is a great little book, covering the pluses and minuses of being Raw during the fall and winter holidays of Halloween, Thanksgiving, and Christmas.
On one hand, holidays are very social occasions that usually focus around food, which raises issues for Raw food enthusiasts, such as how to explain your food preferences to family, hosts, and visitors, and how to deal with temptations to stray too far from healthful habits.
On the other hand, again, the holidays are about FOOD. This presents a fantastic opportunity to try some super fun and delicious, seasonal recipes! (View recipe list.) There is perhaps no better way to start dabbling in Raw or to introduce the cuisine to others... the sheer novelty of Raw holiday food is certain to stimulate conversation.
You'd be amazed how some people's ears perk up when they hear about Raw, as though it's completely novel and foreign, yet somehow instinctively feels natural and right.
All in all, the holidays are a great time to experiment with all aspects of the Raw lifestyle, both culinarily and socially, and this short book is the perfect place to start.
26 Raw Food recipes
* Introduction to Raw & 6 Basic Raw Recipes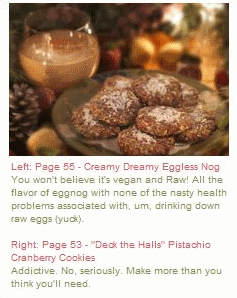 * Exclusive 10-page Raw Holiday Survival Guide
* 20 Holiday Recipes




Format: All of these books are ebooks, meaning they are delivered electronically, as Adobe Acrobat .PDF files that I email to you personally in 1-12 hours (much sooner during business hours).