Kristen Suzanne's EASY Raw Sides and Snacks
In basketball, rebounders don't get the glory, but they win the

games. In the same way, side dishes quietly make the meal. Every recipe in this collection of amazing sides is SUPER easy to prepare.
You'll never be out of ideas for how to round out a large meal or what to take to a potluck. And speaking of parties, this ebook's section on spreads and dips will have your guests craving your FABULOUS appetizers without even realizing... they're eating the world's healthiest food!
60 Raw Food recipes
* Introduction to Raw & 6 Basic Raw Recipes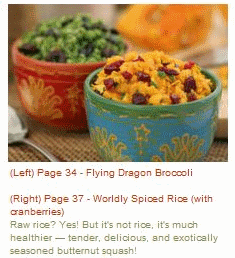 * 24 Raw Side Dishes
* 18 Raw Spreads, Dips & Sauces
* 6 Raw Snacks
* 6 Breakfasts
* View List of All Recipes




Format: All of these books are ebooks, meaning they are delivered electronically, as Adobe Acrobat .PDF files that I email to you personally in 1-12 hours (much sooner during business hours).